in everything give thanks;
for this is God's will for you in Christ Jesus."
I do really love a verse like this one. My goal in life is to do God's will and I love verses like these that make His will completely easy to understand. That doesn't always mean it is completely easy to do but at least I can work on it.
And aren't these instructions fun to work on? Who doesn't want to rejoice (or be joyful) always? And don't we want to have a close relationship with God where we talk to Him all day long? Being thankful is also very fun.
However there are times that we just don't feel joyful, we don't feel thankful and we quite possibly don't feel like talking to God. It has been suggested that these three instructions actually go hand in hand. Some of us find on easier than the others to do. Also often went we don't feel like doing/being any of them if we just go "out on a limb" and do one of them we will likely find the others will follow soon after.
What do you think?
Sometimes we can follow all of these instructions at once and so I want to...
In Joyful prayer to my Loving God I am going to say Thanks!
Thanks for...
#746 The irrepressible laughter of my children. It just makes me want to smile or even laugh too.
#747 Health. So many people I have been around have been sick and so far I haven't gotten it. I am grateful.
#748 Getting to meet and spend much of the day with 2 international college students. What fun times of sharing about our different cultures- how we are different and how much we are the same!
#749 "New" books from the library- and time to sit down and drink a cup of tea and read.
#750 A van that still starts even when it is really, really chilly outside!
#751 Fresh raw milk from the dairy.
#752 Browsing in the Asian food store and finding Seaweed so we can make Kim-bob.
#753 New babies! Oh how I am loving all the arrivals that have happened lately. Children are such a blessing from God!
#754 The opportunity to teach the little kids class on Sunday mornings and getting to tell about Jesus in such simple ways.
#755 A nice crowd at church even though the thermometer showed a temperature very near 0.
#756 Singing songs of praise and thanks to God with others that love Him too.
#757 Everything we need and so very, very much more. Thanks to God who gives so abundantly!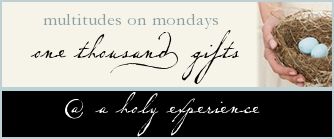 What are you thankful for?