Our family has been having fun making things lately. We have been making gift items but not for us but rather to sell on our newly opened Etsy shops. This week both Mara and I opened a "shop". This is something we had been talking about doing for sometime and so this past weekend when we had a little time we finally started working on it and did it. We are excited to see how it works. Mara had a sale within the first day and so that was exciting. I think it would be very cool if this ends up being a viable job for Mara to have in her highschool years. We shall see. The younger kids have also been making things to sell on our sites.
I thought I would show you some of the things that we have been making. They are handmade so if we could make them you could to but if you don't want to we would be more than happy to have you visit our Etsy shop and buy them if you would like them. :-)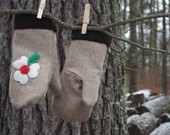 Mittens.
They are so fun to make. I love using re-purposed wool fabric. Adding extra details to them (wool applique) makes them even cute in my opinion.
Here is a blog post
with more information on making mittens. If you would care to buy a pair I currently have four pairs for sale in
my Etsy shop.
Fabric Flower Clips
These are so feminine and fun. I think they can add a lot to an outfit. They are also very fun and fairly easy to make. You can re-purpose lining material to make these flowers. I went to look for a post where I explained how to make these but I guess I never did. A lot of others on the internet have however but in brief - you cut circles or flower shapes out of silky polyester fabric in layers. Then you hold the edges near a candle flame until in melts and curls (be careful!). Do that around all the edges. Then you stack them together and put something pretty in the middle and possibly add something pretty behind as well. Then attach a clip/barrette on the back. I currently have 8 flower clips in various colors listed in my
Etsy shop
. I have more made and ready to put up when I have a chance.
An Acorn Necklace
Mara has fun making these by collecting acorns and taking their inside out and then inserting a secret message inside, putting the cap on and then putting wire around it and hanging it on a braided cord. Mara has quite a few of these for sale in
her Etsy shop.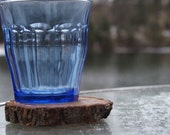 Rustic Wood Slice Coasters
Aaron made really neat sets of coasters by taking a white oak log and slicing it up with the miter saw. Then he varnished one side and put felt circles on the other side. I think they turned out really neat and the project wasn't that complicated. There are some for sale in
Mara's Etsy shop - Acorns and More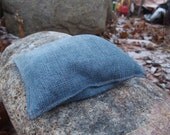 Rice Heat Packs
These are so nice to have on hand as you can heat them up quickly in the microwave and then have them to warm up an aching body part for the next hour or so. They are also just cozy to take to help heat up a cold bed on a winter night. They are super simple to make. Just sew a bag out of a rectangular piece of fabric, fill it with some rice and then sew up the end. Double stitch all your seams and use sturdy fabric so you don't end up with a bunch of rice in your bed. If you would rather buy one I have some for sale in my Etsy shop.
Doll Clothes
make a very nice gift for little girls that enjoy dolls. There are many free printable patterns available online or you can do like I like to do and create your own patterns. They don't take much fabric or very much time (though sometimes they take way more time then you think they should for their size!). I currently have barbie clothes for sale on Etsy and we have some 18 inch doll clothing ready to be listed.
Besides making handmade gifts it is also fun to add some class to the wrapping of gifts. Aaron and Megan made some very cute gift tags to sell on
Mara's Etsy site.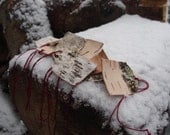 Megan made birch bark gift tags. We love to use birch bark around here to whenever we see a piece laying on the ground or barely hanging on to the tree we collect it to use for future projects. To make these tags she simply cut them to shape, punched a hole in them and then put some string through the holes.
Have you been making any handmade gifts lately? I would love to hear your ideas!
Also... If you have thought it would be fun to open an Etsy shop but never actually done it, I recommend it. It isn't hard (though rather time consuming) and is rather fun. Also if you let me know you are interested I can send you an invitation which will give you 40 free listings to start off with (it would also give me 40 free listings) that means you would not need to put any money into the starting up of your shop.
If you have any suggestions of things that you think we could make to sell on Etsy - I would love to hear your ideas.