I had planned to update you yesterday on how my avoiding stores and pretending like I'm stuck in a blizzard and can't get anything project was going but life got busy so here I am today instead. :-)
Life is going good here at our house! I am having fun with this challenge. I will tell you first that I did actually go to a store this past week. In
my post last week
I had mentioned that going without milk was vetoed and so I did need to go get that. It was a blessing because one of our local stores had a sale with 1/2 gallons buy one get one free so that total cost was $2.45 a gallon which is 80 cents less than normal. I got enough to last until (and perhaps beyond- I am thinking about trying to freeze it) they expire. I did also buy dry milk as that is the cheapest place for that as well and that will help us stretch it out even further. So now hopefully I can truly avoid the store for a while. My parents did also give us eggs from their chickens otherwise we would have had to buy those.
I have actually really been enjoying cooking lately. Something about have a challenge makes me enjoy it more. I think my enjoyment has been showing in the food to as my family seems to be complimenting me on the food more than usual. So everybody is pretty happy with the food situation (though Ken did make his own grocery trip to get his own personal ice cream for nighttime snacking which he had run out of) and meanwhile we are eating some things that had been hanging around here to long. I have been working hard to use up all the zucchini that I grated and froze as well as frozen chopped up dark celery which is good for you but we don't like so much. So we have been eating healthy but the stuff has been yummy too. (Though the tomato soup wasn't a favorite here- but it never is.)
I did have one situation where I figured I might need to go shopping after all but then I didn't so I was pretty pleased about that. Last Saturday was my little brother's birthday. He and his wife's apartment is tiny so I thought it would be fun to have them and the rest of my family over here to celebrate. I talked to Mom about it and she thought it sounded fun and said we should ask Luke what he wanted to eat. I had thought maybe I would just make something that I knew he liked and I also had on hand but then I thought oh who cares- this is just a silly challenge lets go ahead and let him make the choice. Well he choose Chicken Alfredo (Not pork like I thought he might- and I didn't have) so I was able to make it with food that we had on hand. Yeah! I did end up making homemade noodles for it as I didn't have enough linguine and would have had to use spaghetti too. It was enjoyed by all.
I also remembered that I didn't have a gift purchased for him yet and so again figured that I might need to go shopping but after some discussing with Mom about things he needs/uses I remembered that I had some thick socks in my gift cupboard and then we thought about how he likes to cook but since he got married he didn't have the apron that he used at my parents so I decided to make him an apron. He seemed quite pleased with both things even though they were very simple. I also gave him some hummus and snack crackers that I had made as a healthy snack.
Luke trying out the apron
I was trying it out after I made it (and it shows a more complete view).
We have had cooking challenges- but where's the fun if there isn't anything to challenge?
Our cooking oil is running rather low as is our butter. I have been working hard to use as little as possible and make them stretch. I also carefully boiled my chicken bones and skin that I had cut the chicken breast off of and saved the fat that came to the surface which I then used for frying other things. I also got some of the fat off of the ham that we ate and used that for frying and I have also been using some of the beef tallow (which stinks when you are using it, but works) that I had in my freezer for some of my cooking. I also discovered a jar of coconut oil that I had forgotten about in my cupboard so things will stretch further with that.
Another thing that we are running low on is salt. I have been trying to use more herbs and seasonings that we have in place of it as much as possible but when it runs out I am afraid I will break down and buy more. I am a fairly low salt user but I still like it. It has been good to try and use up more of my herbs and spices. They go bad after a time and they need to get used up- also they tend to be pretty healthy for you. I have been experimenting with using kelp powder and nutritional yeast for more flavor as well.
We are out of onions but have been using garlic and celery for flavoring instead. I am also growing these cute little bunching onions. I am excited about having green onion tops before long! Sprouts have also been adding some healthy fresh stuff to our diet.
Here is the meals planned for this week:
Breakfasts:
~Eggs and Blueberry Muffins
~French Toast
~Eggs and Potato chunks and homemade yogurt with raspberries
~Oatmeal
~Crepes and Fruit
~Blueberry Cornbread
~Omelet and Toast
Main Meals:
~Tomato Soup, Pesto and Cornbread
~Baked Fish, Potatoes and Cabbage
~Ham and Bean Soup
~Bean Enchiladas
~Wild Rice Soup
~Tuna Noodle Casserole
~Homemade Rice-a-roni with hamburger
One thing I have realized was important for keeping everybody enjoying this shopping from the pantry challenge was the need to keep snacks easily available. We like to snack around here and if we don't have things available to eat then we all get frustrated. So I have worked hard to always have snack food at the ready. Here are some of the snacks we have enjoyed lately:
~Chocolate cake (made with lots of zucchini in it and no oil)
~Cookies
~Homemade Snack Crackers (I tried
this recipe
) with homemade hummus
~Popcorn
~Oranges (I had stocked up a bunch earlier when they were on sale)
~Nuts
~Cornbread
Anyway that what is going on in our kitchen (home) thanks for stopping by! I love to hear what is going on with you too!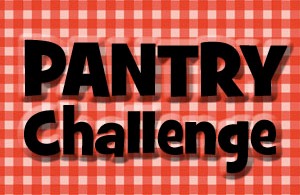 http://goodcheapeats.com/